Abbey Upholsterers take delivery of their new Homag Edgeteq S-500, Loopteq O-300 & XES200.
Abbey Upholsterers has one of the country's largest in-house specialist joinery manufacturing facilities. They are world-renowned for delivering aesthetically pleasing interior fit-out projects to top luxury brands as well as private residential projects. Due to increased demand for their finely finished products, Abbey Upholsterers found their solution in Homag.
Electro-Tech Machinery supplied, delivered and installed the latest additions of Homag machinery to Abbey Upholsterers production line. The new Homag Edgeteq S-500, Loopteq O-300 & XES200 have already increased their capacity to produce the highest quality panelling, specialist joinery and bespoke furniture fit-out, meeting the company's high standards.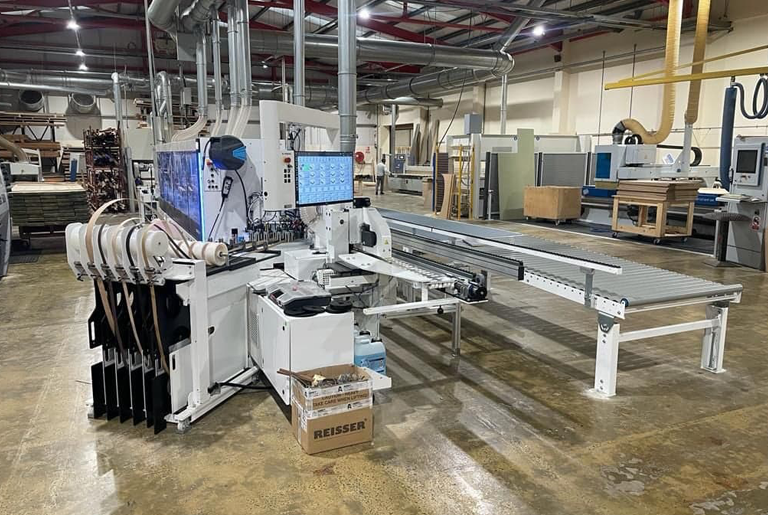 "We do a lot of large batch runs but also do small one-off units. The ability of the Homag Edgeteq S-500 to pause a large batch and quickly swap over to do a one-off panel with a touch of a button was a game changer for us. That, and the ability to run solid edging at 20 Mts a minute has vastly improved our lead times" – Abbey Upholsterers.
The single-sided EDGETEQ S-500 edgebander offers precise gluing and perfect post-processing of edges. PUR and airTec can be used if required. A selectable feed rate of 16-20, 25 (30) m/min enables demand-based productivity for woodworking shops and businesses with higher performance requirements, such as Abbey Upholsterers. Automation and further functionality features can be added on an individual basis for these edge banding machines.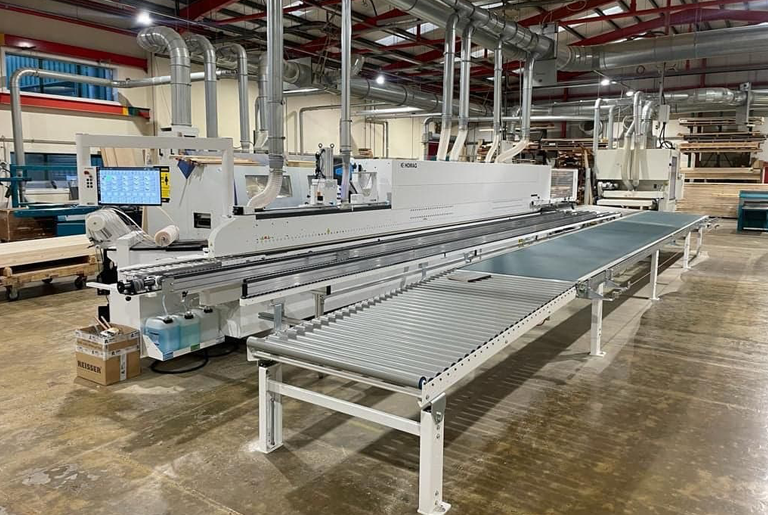 The high level of flexibility provided by the S-500 enables the processing of high-gloss, melamine, PVC, and nesting workpieces with, for example, hinge holes, solid strips or veneer. The FK30 unit enables flawless corner rounding at 20 m/min. This edge banging machine can process workpiece thickness of 8 – 60 / 12 – 60 mm and features 0.3 – 3 mm tape up to 20mm solid strip. The edge bander is fitted with a precise workpiece guide where the belt-type top pressure unit is made from steel. For ease of operation, the S-500 is controlled by Homag's innovative powerTouch2 control system.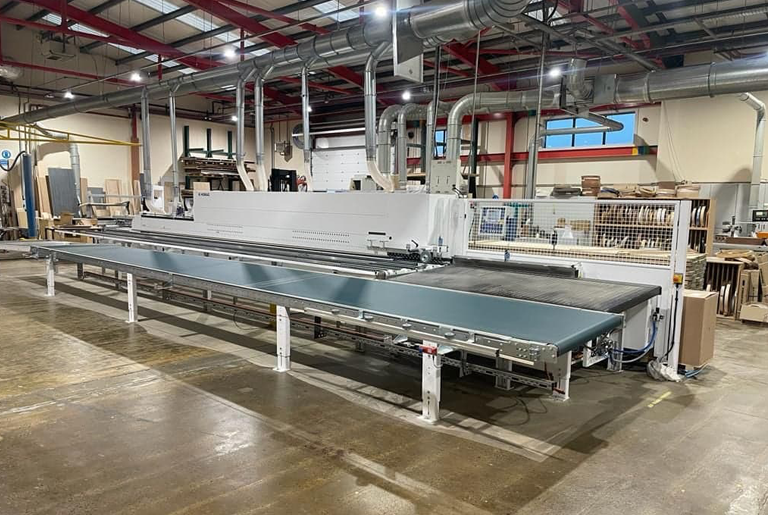 The LOOPTEQ O-300 return conveyor was the ideal choice for Abbey Upholsterers. This highly efficient and economic conveyor transports material of various weights and sizes. It is a high-capacity, robust return conveyor that provides gentle workpiece handling for a quality finish. The user-friendliness of this Homag machine ensured that no training was necessary. Electro-Tech Machinery assembled the LOOPTEQ O-300, connected it to the S-500, and Abbey Upholsterers got to work.
Electro-Tech Machinery was pleased to supply Abbey Upholsters with their new Homag edge bander and return conveyor. We wish them all the best in the future.