Homag has launched a new generation of CNC nesting machines. This new range of efficient machines provides increased performance and flexibility with the added benefit of sustainability, saving on materials and resources. The range provides greater availability for customers through reduction of factory assembly times resulting in a lower client investment without compromising in performance and power.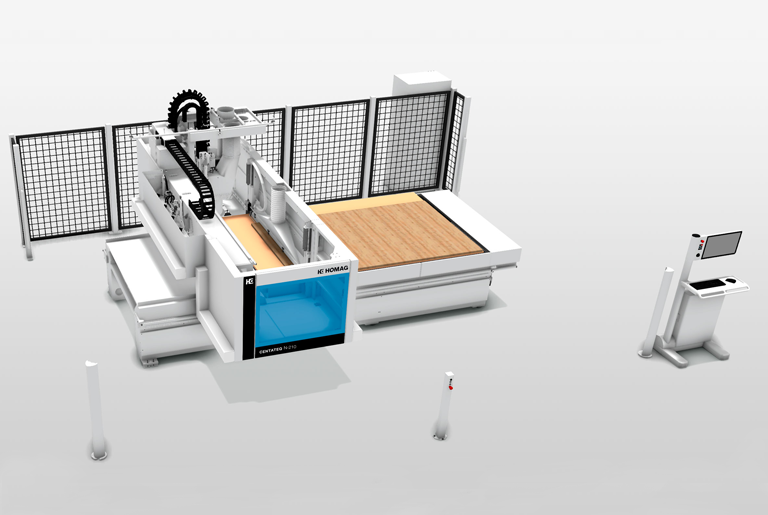 New & Improved 
Increased maximum total height in the Z-direction

Up to 260 mm material thicknesses can be processed

Available in both stand-alone and automated configurations carries updated matrix table configurations for increased performance and flexibility

Optimisation of table structure, the vacuum, air cushion concept, and material handling components

Adaption of non-productive times and setup, the tool changing system  
Easily Expandable – 14 Automation concepts
These CNC nesting machines are easily upgraded to meet the current needs of the customer. The addition of lifting tables provides easier loading of material, automatic belt conveyors for pushing out finished parts, along with complete integrations in saw and storage-system combinations or with material handling robots.
High-Efficiency Production Through Automation
Efficient high volume processing is available at a competitive price. CNC Machining Centers CENTATEQ N-210 and CENTATEQ N-510 programs offer a lifting table on the left side and a belt conveyor on the right side. The lifting table is easily adjusted to the desired height feeding to the processing table is automatic.  
Dynamic Shuttle Operation
The pendulum operation is extended using a separate vacuum supply and ventilation of the table sections. This highly efficient and seamless alternation between the left and right table sections is extended by dynamic pendulum operation. Dynamic control of the air cushion function means individual workpieces of various sizes and surface finishes can be processed in pendulum mode with ease.
Active Vacuum Solutions – New valve technology and machines optimised for dust extraction
The new Homag nesting machines offer different table sizes based on specific needs and requirements. Independent of the table size, three configurations of the automated vacuum field layouts are offered: Classic, Advanced and Premium.
More Options for Tool Changers and Drilling Gears
For fast changeover times, the 8-place tool changer riding along the X-axis of the machine is available as standard with the additional upgrade to 14 or 22 tools. Up to 21 different drilling gear units are available. The CNC Nesting Machine can handle various combinations of vertical and horizontal drilling, as well as grooving without requiring a tool change. Homag's patented quick-change system for drill bit changes remains available.
5-axis Processing on the CENTATEQ N-510 – bringing added value to the application!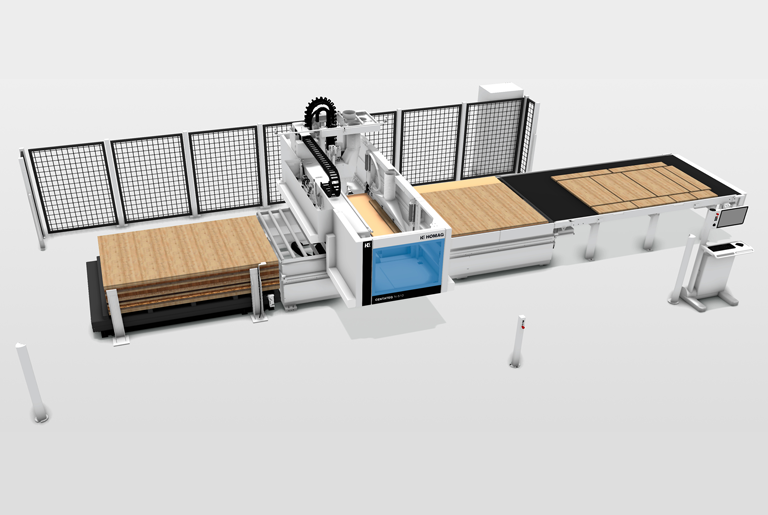 For extra versatility, the Homag DRIVE5CS 5-axis head is now available for the CNC Machining Center CENTATEQ N-510 series. In addition, this series can also be used as a traditional machining centre. Parts can be elevated, referenced, and machined on five sides. Moreover, typical nesting operations including part sizing, shaping and vertical drilling, additional processes such as horizontal drilling for dowels, mitres can be created with a 350 mm saw blade and solid wood components such as stair stringers and door components can be machined.