Exorna Kitchen and Bedrooms take delivery of their new Homag Sawteq B-300 Beamsaw. 
Established in 1980, this Coleraine-based company is one of Ireland's largest kitchen carcass manufacturers. Throughout the years the company has consistently increased its standards for quality design. Exorna's skilled designers create timeless, functional designs meeting customer requirements for optimum quality furniture. 
Exorna has developed its production line and implemented innovative processes to deliver its high standard for aesthetically excellent furniture. From product design to the application of state-of-the-art machinery to manufacture these designs. The forward-thinking of Exorna and its smart use of technology enhances the process of efficiently producing superior quality kitchen and bedroom furniture products. To meet increasing demands from retailers and distributors, Exorna must produce high volumes through their manufacturing techniques. Their production line must remain flexible and capable of meeting the needs of their customers while never compromising on quality. The implementation of their new Homag Sawteq B-300 was the perfect solution.
We are delighted with our new Homag Sawteq B-300. Its additional specifications have enhanced our capacity to produce our high-quality products. The engineers from Electro-Tech Machinery did a great job integrating the new machine seamlessly into our production line.

Andy Oliver – Director
Homag Beamsaws Sawteq B-300 series – Individually equipped single saw for trade and industry.
The Homag Sawteq B-300 beamsaw is a compact saw offering an extensive range of high-performance cutting options and custom configurations.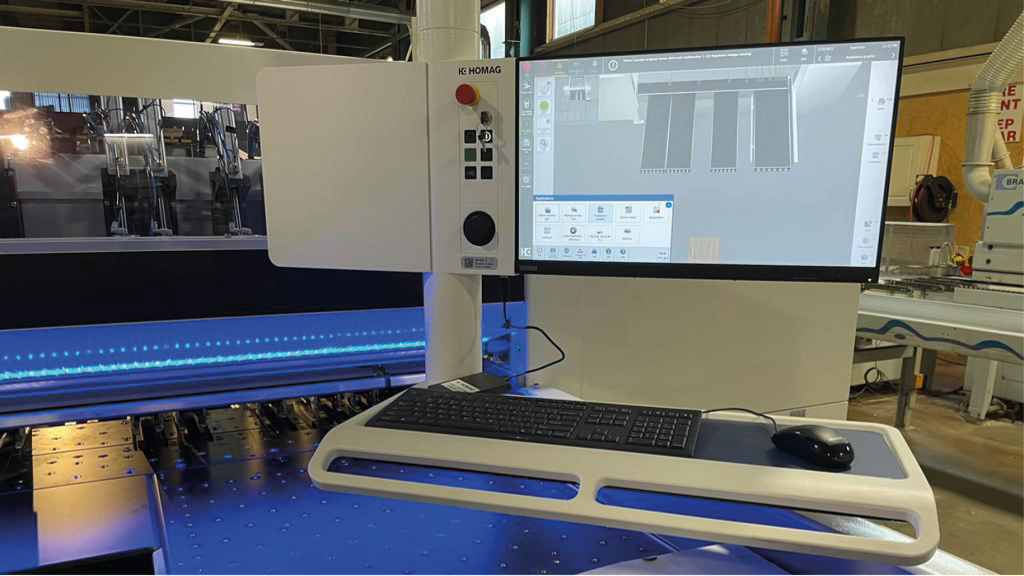 The extreme versatility of the beamsaw allows for easy expansion to meet the increasing requirements for high quality and demand. It is also suitable for networked production processes. The power Concept along with label printer increases the efficiency of processes up to 40% and optimizes handling. This series of panel dividing saw comes equipped as standard with a powerful 80 mm saw blade projection, 95 mm as an option. Capable of a choice of cutting widths from 3200 mm to 5600 mm, this beamsaw can efficiently produce batch size 1. This particular saw features coloured LED signals at the cutting line to allow intuitive operation and a quicker, safer way of working. Reliable and robust, the saw has an ergonomic table height of 920 mm. The superior design of the saw enables workpieces to flow smoothly through production. The intuitive Control Software CADmatic 5 features a full HD widescreen multi-touch monitor, harmonized user interface powerTouch, 3D assistance graphic support and graphically supported diagnostics
Electro-Tech Machinery is proud to supply and install this beam saw to Exornas production line and is confident that the B-300 will be an asset in producing the highest standard of cutting quality.