We supply the full range of highly versatile Homag Beamsaws, ideal for both woodworking shops and industrial customers wanting to produce precision cuts for every type of wood-based or plastic panel material. 
Homag offers the choice of single saws, angular units or large-scale systems featuring Sawblade projections from 58 mm – 190mm and cutting lengths 3200 mm – 6500mm. The standard equipment of these beamsaws provides you with everything you need for producing accurate cuts with ease. The high tech optional extras offer intuitive options for automation and increased production speeds.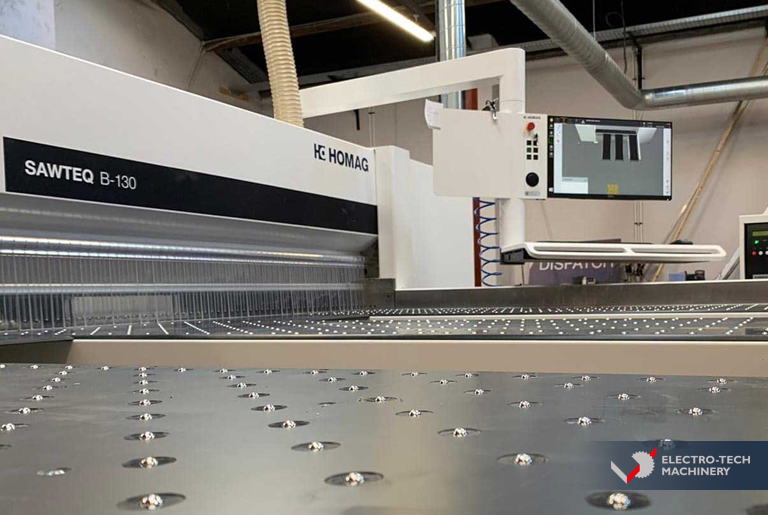 Powerful yet compact the Sawteq B-130 is the smallest in the Homag range. The standard equipment is ideal for cutting top quality single panels and small batches. 
The efficient Sawteq B-200 is ideal for cutting panels horizontally in the crafts sector. This panel saw is attractively priced and can be easily upgraded.
The Sawteq B-300 is the ideal single saw for trade and industry. It offers a wide range of cutting applications and ready for networked production.
The powerful Sawteq B-400 is ideal for producing small to medium-sized batches. The perfect cutting solution for growing businesses.
The Sawteq B-500 is an innovative, robust, high-performance saw best suited for mass producers.
If you want greater flexibility, speed and efficiency when processing your workload with an attractive price to performance ratio, then a Homag panel saw is your solution. Most Homag beamsaws are easily integrated into production lines with little downtime. The versatility of these saws means they can be efficiently expanded to meet increasing customer requirements. An added benefit is the local service from Electro-Tech Machinery. Our highly skilled engineers supply you with the whole package from installation, training, maintenance and spare parts.  Get in touch to get a  quote tailored to your requirements.