O'Connor Woodwork Solutions take delivery of their new Homag Drillteq V-200 CNC Processing Centre.
For four generations, this County Clare based firm has specialised in the design and manufacture of bespoke joinery for commercial fit-outs. Producing superior quality design and handcrafted products to the leading commercial and residential clients in Ireland. O'Connor Woodwork Solutions are partners with some of Ireland's leading construction brands.
They pride themselves on producing exclusive designs using local sustainably sourced timber to ensure the continual production of their exceptional quality products in line with their core values, quality, sustainability and integrity.
"We invested in the Homag Drillteq V-200 to meet increasing demands for our precision drilling, trimming and grooving required for our specialised joinery products. The skilled service engineers from Electro-Tech Machinery seamlessly integrated the machine into our production line where it was put straight to work"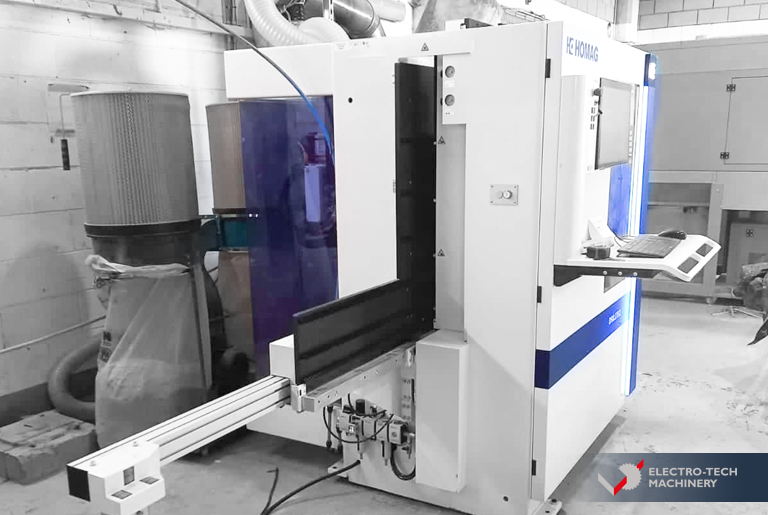 To meet their expanding demand for capacity and ever-increasing benchmark for quality, O'Connor Woodwork Solutions opted for the versatile Homag Drillteq V-200, an all in one machine for accurate drilling, trimming and grooving. These drilling machines are well-suited to speedy production for trade businesses, other small businesses and bespoke production in larger companies.
This Vertical CNC processing Centre comes with the renowned Homag powerTouch operating concept as standard. The compact design of this CNC drilling machine saves space in the workshop. Rapid processing saves time while never compromising on quality. As standard, this machine can hold up to 13 vertical high-speed drill spindles including, a quick-change drill system and automatic tool change magazine. The intuitive, user-friendly operation keeps downtime to the bare minimum especially, when it comes to operational training. No setup time is required due to a vacuum-free clamping system. Very little energy is needed to run the machine offering an impressive price to performance ratio.
Electro-Tech Machinery is delighted to work with O'Connor Woodwork Solutions and to have supplied and installed their new machine into their factory to maximise the efficiency and productivity of their business. We thank them for their business and wish them all the best with the machine.