Established in 2007, SprayTec Ireland specialises in the application of protective and decorative coatings for interior and exterior joinery products. Offering cost-effective spraying solutions to clients throughout Northern Ireland and Ireland.
Phelim Corr – SprayTec Ireland with his Homag Sprayteq S-100. "This machine has been a great addition to our factory. The Homag Sprayteq S-100 has increased our flexibility with quick change over between different products allowing us to maximise our output. The machine's precision has reduced the amount of paint used and has improved spraying quality and consistency. "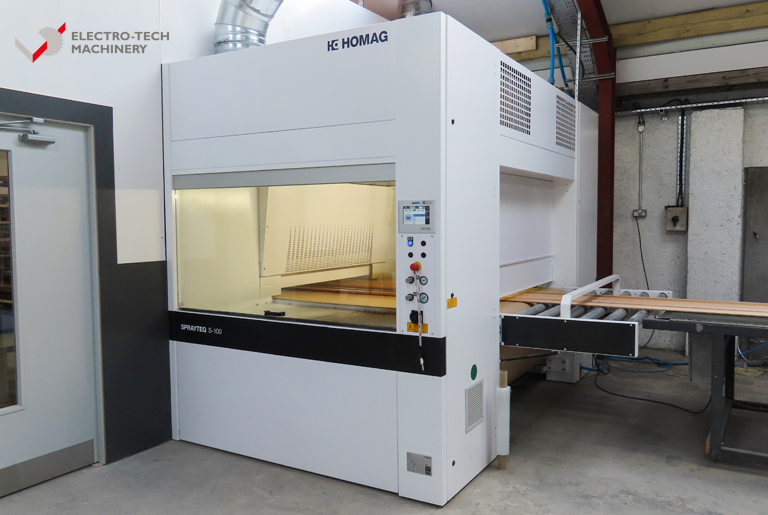 The Homag Sprayteq S-100 – High Performance, Flexibility, and Reliability.
The S-100 is the ideal addition to any workshop as it only requires 14 square meters of installation area. Its compactness does not compromise its ability to produce superior quality spray-coated products with the highest efficiency. The exhaust air unit and switch cabinet integrated within the machine frame. This machine features a single oscillating arm, four spray guns and a workpiece transport with a vacuum conveyor belt covered with disposable paper.
The automated workpiece handling system ensures painting several batches is quick and easy without interruption requiring just one operator. Precision part detection facilitates precise control of spray guns for the best possible paint savings. The machines large exhaust volume and optimal air supply allow for a high paint transfer rate.
The S-100's large windows and an illuminated interior allows for optimum visibility. Easy machine access to all filters for service and cleaning ensures maintenance is quick and efficient.
This machine can be used as a stand-alone spray machine or as part of an extensive finishing line. Homag works in close partnership with MAKOR finishing systems to offer you a comprehensive product portfolio.