Timbertone Design Ltd near Moneymore, Northern Ireland invests in a New Homag Sawteq B-200 beam saw.
Timbertone Design Ltd, are renowned for the superior manufacturing of bespoke products such as solid wood dovetail drawers, curved and angled kitchen and bedroom units, children's furniture and other specialist bespoke products derived from original design ideas.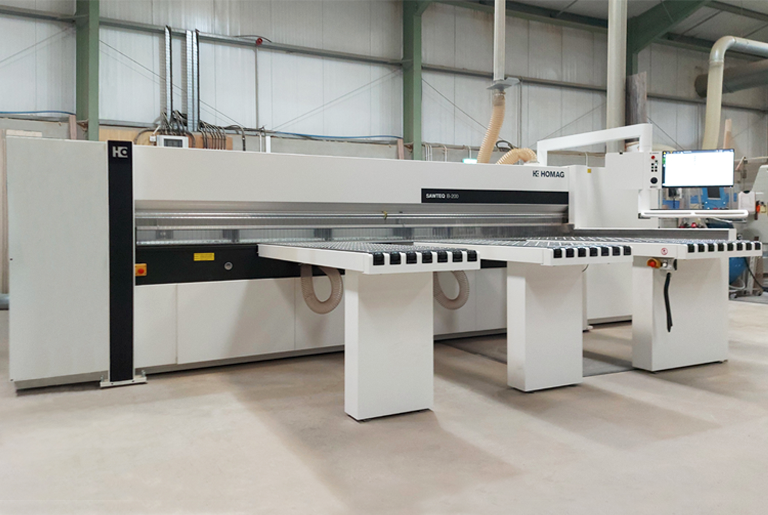 We invested in the Homag Sawteq B-200 to increase the capacity of our diverse range of products for the kitchen and bedroom industry. The Sawteq B-200 is an extremely flexible machine and operates seamlessly with our other recent Homag purchases an Edgeteq S-380 and a Sandteq W-200. It is already meeting our demand for complex cutting, assuring the continued quality of our bespoke products as well as kitchen and bedroom carcases. With the help of local service Technicians from Electro-Tech Machinery, the machine integrated flawlessly into our production."

David Anderson, Director- Timbertone Design Ltd.
Read how David describes how the installation of his new Homag Sawteq B-200 supplied by Electro-Tech Machinery has increased capacity at Timbertone Design by over 20% in Furniture & Production Magazine and Joinery and Woodworking News Magazine.
The saw for precision horizontal cuts, ideal for those in the crafts sector that demand precision. An attractively priced, efficient, and upgradeable beam saw.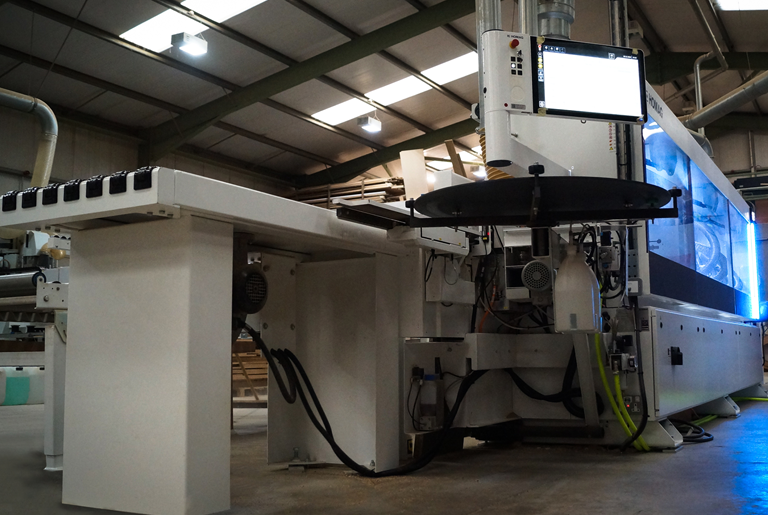 Edge banding machines Edgeteq S-380: 8–18 m/min feed speed – A highly flexible all-rounder
For companies who frequently change materials, and desire the ability to easily switch between two colours or glue types (EVA, PU). High-grade furniture with high edge quality is produced with extreme efficiency with this edge bander.
This return system is ideal for those who manufacture a variety of materials varying from weight to size.
Wide-Belt Sanding Machines SANDTEQ W-200 offering calibration, veneer sanding and paint sanding
This wide belt sander is the ideal addition to small to medium-sized carpentry and joinery companies production lines offering extreme levels of performance and versatile processing of kitchen, office, and solid wood furniture.
This whole production line of Homag Machinery was supplied and installed to TimberTone Ltd by Electro-Tech Machinery along with machine training. The team at Electro-Tech Machinery worked closely with David to seamlessly integrate his new beam saw into his production. Get in contact for more information for all Homag machines